Luke's Tank Pumping Service
Since 1983, Luke's Tank Pumping Service has been the number-one sanitation service in Mamou, Louisiana, offering installation, cleaning, pumping, repair and inspection services for your septic tank, along with a quality inventory of equipment and parts to help you get the job done right.
Expert Septic Tank Pumping in Lafayette and Surrounding Areas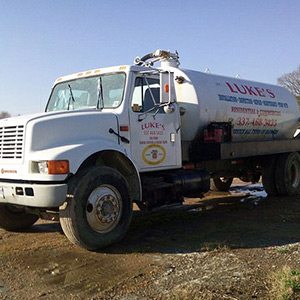 Luke's Tank Pumping Service specializes in services for your septic tank, sewer and grease trap to keep your system running smoothly and efficiently. We offer installation, maintenance and repair on sewers, septic tanks and grease traps for both residential and commercial properties, including pumping, inspections and industrial services for lift stations. We also specialize in manufacturing, installing and maintaining grease traps and Aerobic Treatment Units, utilizing our expert understanding of Louisiana's unique soil composition to provide you with a far more efficient, healthy and environmentally friendly treatment system.
Our family owned and operated business has become a trusted establishment for honest, reliable and prompt work. We always offer community-oriented service, evaluating your property and sewage system in order to form a treatment plan that works for both your land and your budget. We're known for our friendly customer service and our commitment to respecting your property, so even with the most invasive of septic procedures, you'll find we strive to keep our mark on your yard limited and to clean up afterwards. This kind of respectful attention to detail is just one of the reasons why we've become the leading provider of septic service in Lafayette and Mamou, LA. Some others include:
We are fully licensed as a Master Plumber in Louisiana, license #743.
We offer full septic and sewage service on residential, commercial and industrial systems.
We are a family owned and operated business.
We've been providing quality septic and grease trap services in Lafayette and Mamou, LA, for more than 30 years.
We proudly serve Lafayette and Mamou, LA, and the surrounding area within 60 miles.
Areas Served
Located in Mamou, LA, we offer specialized sewer, septic and grease trap services
in the following cities and towns:
Alexandria, LA
DeRidder, LA
Lake Charles, LA
Crowley, LA
Abbeville, LA
New Iberia, LA
Rayne, LA
Lafayette, LA
Eunice, LA
Opelousas, LA
Broussard, LA
Kaplan, LA
Jennings, LA
Kinder, LA
Church Point, LA
Ville Platte, LA
Oakdale, LA
Bunkie, LA
Marksville, LA
Evangeline Parish, LA
St Landry Parish, LA
Allen Parish, LA
Acadia Parish, LA